Magpie Talkshow Episode 20 - Anita Sengupta NASA Special!
Martian Parachute Edition
Posted on Sep 8 2016
Jump To Episode Subscribe on SoundCloud Subscribe on iTunes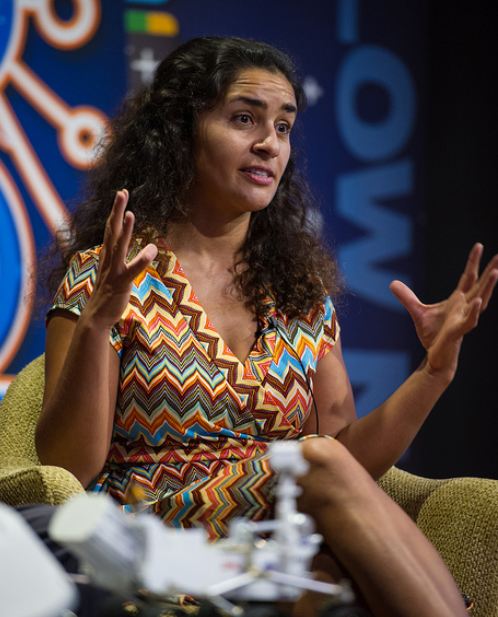 One of the nice things that the YOW conference has done over recent years is strive to bring in interesting keynotes, often from quite left-field areas (at least for a software technology conference!). Last year the organisers outdid themselves when they managed to secure the services of Dr Anita Sengupta and Dr Kamal Oudrhiri who worked on the recent Mars Curiosity Lander for NASA. I was lucky enough to grab both of them just after they spoke in Sydney, and in this episode you'll hear the first of a two part NASA special. That's right, I got to speak to real life rocket scientists! Although as Anita reliably informs me in today's episode, the correct term is 'propulsion engineer' (I don't think "It's not propulsion engineering!" quite has the same ring about it though…).

Anita the Lead Engineer on the hypersonic parachute system used to slow the lander down on it's Martian decent, and as she outlines in this episode this brought with it a whole host of challenges that hadn't really been faced before. We also find time to talk about science fiction, and how you might be able to get involved in this and future NASA missions!

If you want to know more about Anita and the work she is currently doing, you can follow her on Twitter @doctor_astro (kudos for the Twitter handle by the way!), or follow her over on facebook.

This video from NASA gives a great overview of some of the challenges involved in the lander as a whole, including the amazing parachute:

Since I interviewed both Anita and Kamal, they have both been working on the new Cold Atom Laboratory, which is due to be installed on the International Space Station in 2017. This brief video gives a very good overview of the project:

And here is the video of Anita and Kamal's talk at last year's YOW 2015:

In the next episode, we'll hear from Anita's colleague Kamal Oudrhiri. This will be in two weeks' time - I've been struggling to find a regular rhythm for these podcasts and want to find a sustainable pace. Doing them once a week really hasn't worked out, so I'm hoping once every two weeks will be more manageable.

If you do like the podcast then please do leave a comment and perhaps a rating on iTunes.

Subscribe on SoundCloud Subscribe on iTunes Grab the feed direct

See other episodes. Back to Blog.